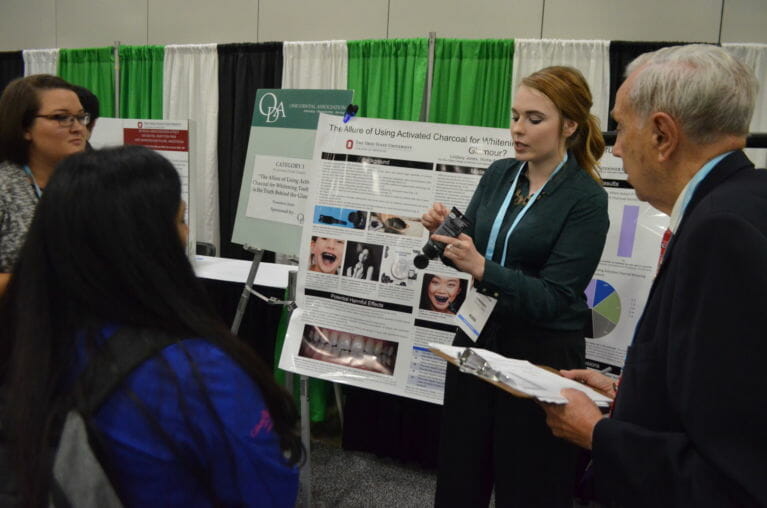 Annual Session attendees will have the opportunity to share dental practice information and earn continuing education (CE) credit, as well as prizes, by presenting a Table Clinic at the 2023 ODA Annual Session.
Table Clinics, which are informal, interactive presentations that last up to 15 minutes, are presented by dentists, dental students, dental staff and dental residents each year during Annual Session.
Presentation topics are designed to promote education and dialogue among dental professionals by addressing some of the clinical issues they face in day-to-day practice.
Presenters and other attendees have an opportunity to earn CE credit under the category G: Table Clinics of the Ohio State Dental Board's CE requirements.
Presenters can choose whether or not they wish for their Table Clinic presentation to be judged. Those presentations that are judged have an opportunity to win prizes:
Best of Show: $500, plus an opportunity to be featured in the ODA Today. (Winner for Best of Show is not eligible in any other category or for any other monetary prize)
Dental Residents: Two prizes, $250 each.
Dental Auxiliary & Dental Students: Up to two prizes, $250 each.
Judges are made up of a panel of ODA member dentists who evaluate those presentations that choose to be judged based on the quality and effectiveness of the presentation. Judges use criteria including mastery of subject, scientific content, relevance to dentistry, delivery, professionalism, use of visual aids and the presenter's ability to handle questions.
Table Clinics will be held Friday, Sept. 22 from 12 to 2 p.m. in the Exhibit Hall during the 2023 ODA Annual Session, held Sept. 21-23 at the Greater Columbus Convention Center. Presentations are given several times during the two-hour time slot, and there is no viewing or presenting fee to registered attendees.
Individuals interested in presenting must complete a Table Clinic application here. The application deadline for those that wish to be included in the competition to be judged is Aug. 23, 2023 and for those that prefer to present without being judged for the competition is Sept. 6, 2023.
Table Clinics are presented inside the Exhibit Hall, where vendors will showcase the latest dental trends and technology. Dentists and staff can talk with representatives on-site and try out products for themselves.
For more information about presenting, attending or judging at this year's Annual Session Table Clinics, contact Denise Boltz, at (800) 282-1526 or via email at denise@oda.org.
*Please note: There is no guarantee that a prize will be awarded.