The ODA believes patient education is key to understanding the connection between oral health and overall health. We seek to educate our member dentists, as well as their patients and our community.
We offer resources and information for patients to learn more about dental health and find a dentist near you. Whether you're looking for information on fluoridation, oral health advice, or just have some general questions, these links below are a great place to start.
Oral Health Resources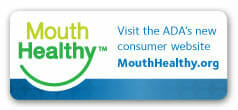 The American Dental Association's consumer website, MouthHealthy.org, provides information for people of all ages about oral health, including:
Oral health information for all life stages
ADA seal products
A-Z oral health topics
Nutrition information
Information about visiting the dentist
Oral health resources
A list of ODA member dentists in your area.
Listen to our Public Service Radio Messages
Click on the links below to hear our public service radio messages, or click here to listen to all of our radio messages.