Your support makes a lasting impact.
Help the ODA Foundation continue its mission of Advancing Oral Health in Ohio through grants and scholarships by supporting the Foundation with a donation today! Your support is what has allowed us to award more than $1.5 million in grants and scholarships.  Will you help us award $1.5 million more?
Recognize your loved ones and other special individuals in your life with a tribute gift to the ODA Foundation in their honor or memory.  Donor and honoree names will be listed in the ODAF Annual Report. All honorees (or the family) will receive a letter informing them of the donation.
You can donate securely online using the form below, or by printing out and faxing or mailing the donation form.
The ODA Foundation is financially supported and continues to grow due to the generosity of dentists and other friends of the foundation, including the ODA and ODA Services Corp. Investments are maintained in accordance with ODA investment policies and with the philosophy of investing prudently and with diligence while attempting to obtain a return on investment equal to or greater than the current inflation rate, as defined in the investment guidelines.
Pie the President Challenge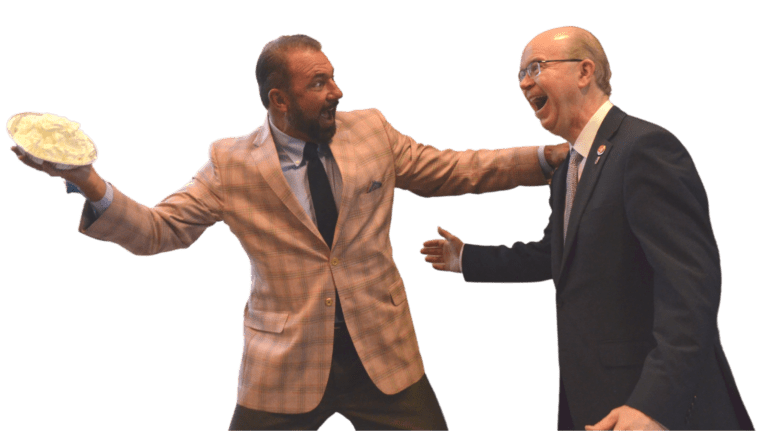 Challenge: Raise $100,000 in donations for the ODA Foundation during ODA President Dr. Tom Kelly's term.
Reward: Watch Dr. Kelly get pied in the face at the conclusion of the 2022 ODA House of Delegates.
Donate to the ODA Foundation to help hit this goal! Your donations increase the amount of grants for access to care programs in Ohio and scholarships to dental students that the ODA Foundation will award in 2022.
Donate to the Foundation for a chance to win Tripartite dues!
ODA members who donate to the ODA Foundation general fund between Nov. 1, 2021 and Oct. 31, 2022 will be entered for a chance to win 2023 tripartite membership dues! Two ODA members who donate at one of the Annual Circles of Impact giving levels will win 2023 tripartite dues (valued up to $1,500) or $1,000 cash prize. Plus, the more you donate, the more entries you will receive!
ODA members who have been in practice for 10 years or less are also entered into an additional drawing for 2023 tripartite dues.
Annual Circles of Impact: Giving levels are determined by the donor's cumulative gifts to the ODA Foundation general fund from Nov. 1 through Oct. 31 of the current dues year.

Giving Levels
Champion: $85 – $169 (1 entry into drawing to win tripartite dues)
Humanitarian: $170 – $499 (2 entries into drawing to win tripartite dues)
Philanthropist: $500 – $999 (6 entries into drawing to win tripartite dues)
Altruist: $1,000 and up (15 entries into drawing to win tripartite dues)
Donate to the ODA Foundation
The ODA Foundation is a 501(c)(3) tax-exempt corporation registered in the state of Ohio. All contributions are tax-deductible to the extent permitted by law. Consult with your financial and/or legal advisor for advice on the best form of giving for you.