Add or Edit Event
To edit an event:
Click Events from left-side Dashboard
Click All Events
Find the Event you want to edit, click Edit and follow the instructions below for adding information.
After editing, remember to click the blue Update button.

To add a new event:
Click on Events on left-side Dashboard tab to add a new event. Click Add New.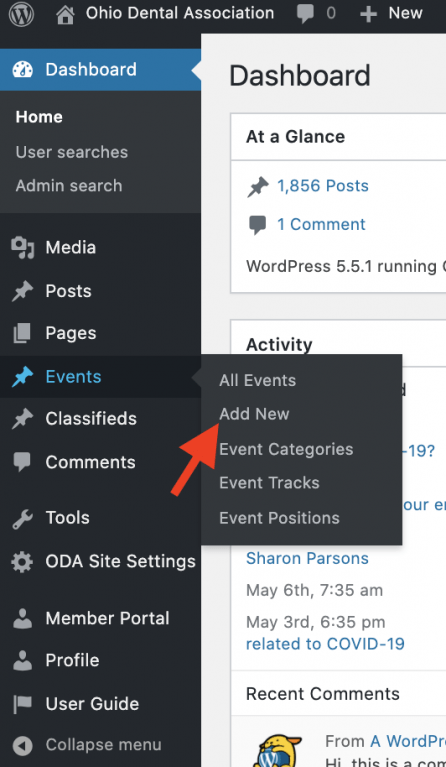 Add Event Name. This is how the page URL is created.
Add image if you would like to include an image
Learn More CTA with link to web page that includes more information
Add Event Title
Add one-sentence description in Content field. This populates as the description in the master Events + CE calendar.
Add CTA in CTA button text (For consistency, use More Information when an events has a separate page on the website.) Remember to add the URL link.
Add Event Category. If you add a new event category, it automatically populates in the Events + CE calendar.
Add Event Description. This is what populates on the actual Event info button from the Events + CE calendar
Add date and time

For events with no time, leave this section blank.

Add RSVP options
Add event location. Add exact location for a clickable map option.
Remember to click the blue Update button when you have added all event information.