Top 10 reasons to attend this year's ODA Annual Session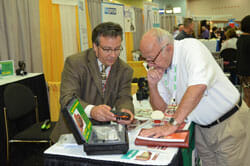 Getting deals on dental supplies and seeing the latest dental equipment are two of the top reasons dentists like to attend the ODA Annual Session. The Exhibit Hall is the largest in the five-state area.
Famous authors and personalities have produced their "Top 10" lists. I have enlisted the help of Ohio dentists to put together their top 10 reasons for attending this year's ODA Annual Session. Quotes are excerpted from past ODA Annual Session survey responses.
1. To stay up-to-date on the latest techniques
"I can't believe the changes that have taken place with materials and techniques. I feel out of it if I don't come down to the meeting and take classes."
Top lecturers in the fields of products, materials and research will be featured at this year's meeting. Presenters include: Dr. Gordon Christensen, Dr. Ron Kaminer, Dr. Brian Novy, Dr. John Comisi, Dr. Howard Glazer and a rare meeting appearance by Dr. Maura Gillison, the physician credited for discovering the association of human papillomavirus (HPV) and oral cancer. Don't miss out on seeing these top clinicians in your own backyard.
2. To see my old classmates
"You know I just love coming to the meeting and catching up with my old classmates. The time has certainly flown."
Both the OSU College of Dentistry and CWRU School of Dental Medicine will hold receptions on Friday evening, Sept. 12, at the Hyatt Regency Columbus Hotel. In addition, the International College of Dentists (ICD) will hold a reception on Wednesday evening, Sept. 10, at the Hilton Columbus Downtown Hotel; the American College of Dentists (ACD) will hold its breakfast on Thursday morning, Sept. 11, at the Hyatt Regency Columbus Hotel; and the Pierre Fauchard Academy will meet for breakfast on Friday, Sept. 12, at the Hyatt Regency Columbus Hotel.
3. My staff wants to be there
"My staff blocks out the time in the appointment book every year. They love coming to the meeting, hearing speakers, checking out the Exhibit Hall, getting free stuff and going out to eat. This meeting is great for staff morale."
Exceptional programming designed for dental teams is being offered this year. Look for courses presented by Bruce Christopher and Judy Kay Mausolf. Your staff will not be disappointed!
4. To get recharged
"Sometimes I think I am the only one who has challenges. It is good to come to the meeting, see great programs, talk to friends and get charged back up."
Networking with colleagues is one of the best features of Annual Session. From receptions in the Exhibit Hall to organized events held in conjunction with the convention, there is no shortage of opportunities for you and your staff to share dental stories and experiences with other dental teams.
5. To get a break from the office
"A few days out of the office is a nice break. Not having to worry with a hectic schedule is great."
And you and your staff can literally, "Take A Break!" in the Exhibit Hall on Friday afternoon, Sept. 12, with a free ice cream sundae bar.
6. To get a few days off out of town
"Just getting out of town is a relief. You just don't realize sometimes the pressure you are under until you get away."
Columbus offers many opportunities to unwind. Right outside the doors of the Convention Center and downtown hotels is the Short North and Arena District, both offering great restaurant and entertainment venues. On Friday and Saturday nights, you can catch a free shuttle at the Columbus Hilton Downtown Hotel to Hollywood Casino.
7. To get deals on dental supplies
"Quite simply I come for the show specials. The money I save pays for the trip."
The Exhibit Hall offers one of the largest dental exhibitions in our five-state region. Every major manufacturer in the dental marketplace is represented on our Exhibit Hall floor. An expanded and enhanced floor plan will add to this years' experience.
8. To fulfill my CE requirements
"By coming to the meeting every year I get all the hours I need for my CE certification. The ODA is a good habit."
This year, Annual Session attendees have the opportunity to choose from more than 65 different CE opportunities. In addition to quality lectures, more than 10 hard-to find hands-on workshops are being offered.
9. To see the latest equipment
"I am planning on replacing my old hygiene unit. I am coming to the meeting to sit in all the chairs and pick out my new room."
The opportunity to shop and compare "under one roof" is a great feature of the ODA Annual Session Exhibit Hall.
10. To be a part of the biggest dental event in Ohio
"You know the state meeting is the largest gathering of Ohio dentists at one place. There is something for everyone. I feel like it is a happening and I do not want to miss it."
Don't miss it! ODA Live! Annual Session 2014 promises to be a great meeting and wonderful experience.
Whatever your reason, you will not want to miss this year's Annual Session Sept. 11-14 at the Greater Columbus Convention Center.