Table Clinics: A learning opportunity for those who present and attend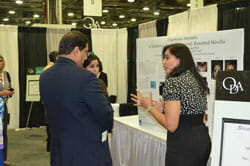 This year's Table Clinics will take place Friday, Sept. 18 from 4 to 6 p.m. during the ODA Annual Session.
Table Clinics have always been a part of dental continuing education meetings, and they continue to adapt with the times. They have been known as poster sessions and essay programs, and were the main focus of the ODA's first Annual Session in 1866.
2015 ODA Annual Session attendees will again have the opportunity to present and attend Table Clinics, but this year they have a new day and time: Friday, Sept. 18 from 4 to 6 p.m.
"We are excited to have a new day and time this year for the Table Clinics," said Dr. Denise Hering, chair of the Table Clinics. "We hope it will give more people the opportunity to view the presentations. Dental students will attend Annual Session on Friday, so it will open up the opportunity for more students to be involved – either presenting their research or viewing the clinics. I hope to see you there!"
Table Clinics, which are informal, interactive presentations that last up to 15 minutes, are presented by dentists, dental students, dental staff and dental residents each year during Annual Session.
Presentation topics are designed to promote education and dialogue among dental professionals by addressing some of the clinical issues they face in day-to-day practice.
"Attendees can go from table clinic to table clinic and in short period learn a lot of different things," said Dr. Fady Faddoul, professor and vice-chair of the Department of Comprehensive Care and director of the Advanced Education in General Dentistry program at the Case Western Reserve University School of Dental Medicine. "A lot of the Table Clinics are not just basic science research, a lot of them are cases, they are research that is relevant to a clinical practice. Every year when we walk around and look at what students have done, we learn something. It's a little jewel you can take with you to your practice."
He added that attending Table Clinics is a great way for practicing dentists to support students and residents, who are the future of the profession.
Faddoul said that the residents in his program are required to present a Table Clinic at Annual Session and they are subsidized for their trip to do so at the ODA Annual Session. He said there are a lot of reasons why he feels it's important for students and residents to present a Table Clinic.
"It's educational, it fosters collegiality, it helps them understand what we keep talking to them about in regards to lifelong learning," he said. "It showcases their efforts and work, and it gives our school and program visibility with our colleagues. The other part of it is that if you think about dentistry, a lot of it is the dentist being able to communicate with a patient and explain in clear words what they're going to do. Presenting a Table Clinic gives the residents an experience where they have to talk to people about their work. It's the same as talking to a patient."
Presenters and attendees have the opportunity to earn CE credit under Category G: Table Clinics of the Ohio State Dental Board's CE requirements, and top presenters are eligible for cash prizes. There will be one Best of Show prize of $500, two $250 prizes for the graduate dental student category, one $250 prize for the pre-graduate dental student category and one $250 prize for the dental auxiliary category.
Presentations are judged by a panel of ODA member dentists on the quality and effectiveness of the presentation. Judges use criteria including uniqueness, mastery of subject, relevance to dentistry, delivery, use of visual aids and the presenter's ability to field questions.
Table Clinics will be held Friday, Sept. 18 from 4 to 6 p.m. in the Exhibit Hall during the 2015 Annual Session, held Sept. 17-20 at the Greater Columbus Convention Center. Presentations are given several times during the two-hour time slot, and there is no viewing or presenting fee to registered attendees.
"I strongly encourage everyone to participate in the table clinics, both from the presenters' standpoint and the attendees'," Faddoul said. "It's a great experience."
Individuals interested in presenting must complete a Table Clinic application. The application, plus information about the deadline, rules and regulations will be posted online at https://www.oda.org/events-ce/ under Annual Session by the end of March.
Table Clinics are presented inside the Exhibit Hall, where over 200 vendors will showcase the latest dental trends and technology. Dentists and staff can talk with representatives on-site and try out products for themselves.
For more information about presenting or attending this year's Annual Session Table Clinics, contact Denise Boltz, at (800) 282-1526 or via email at denise@oda.org.