Governor signs HB 463 into law to improve access to dental care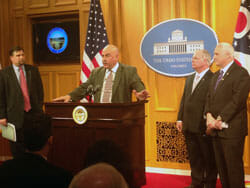 Then-ODA President Dr. Paul Casamassimo speaks at a press conference in favor of House Bill 463 at the 2014 Day at the Statehouse. ODA Executive Director David Owsiany (left) looks on with Sen. Joe Uecker (R-Loveland) and Rep. Terry Johnson (R-McDermott). Johnson introduced HB 463, which was recently signed into law. Uecker introduced companion legislation in the Ohio Senate.
On Dec. 19, Gov. John Kasich signed ODA-backed House Bill 463 into law to help improve access to quality dental care across Ohio.
"House Bill 463 will improve access to much needed dental care for all Ohioans in a safe, effective way," said Dr. Thomas Paumier, Ohio Dental Association president. "The Ohio Dental Association would like to thank the governor and the General Assembly for passing this important legislation."
HB 463, the Ohio Dental Care Modernization Act, was developed from a series of recommendations created by the ODA's Task Force on Auxiliary Utilization and Access to Care and approved by the 2013 ODA House of Delegates. The recommendations are aimed at improving access to quality, comprehensive dental care by focusing on delivery system enhancements and workforce development.
"The ODA's Task Force on Auxiliary Utilization and Access to Care developed a comprehensive list of recommendations that research has shown will help improve access to quality dental care," said Dr. Henry Fields, task force chair and an ODA past president. "House Bill 463 puts many of these recommendations into law, and Ohioans will begin to see results in improved access to dental care provided by qualified dental health professionals."
The task force's recommendations were provided to policymakers seeking positive solutions to Ohio's access to care concerns. In response, State Rep. Terry Johnson (R-McDermott) along with a bi-partisan list of co-sponsors introduced the legislation to enact the ODA's recommendations.
"I would like to thank Rep. Johnson for his leadership and commitment throughout the process of creating this legislation and seeing it through the course of becoming a law," said ODA Executive Director David Owsiany.
House Bill 463 was passed unanimously by the Ohio House and Senate and contains several key provisions.
Delivery System Enhancements
Dental Medicaid Reimbursement Study: HB 463 calls for a study on dental Medicaid reimbursement policies and fees by representatives of the Department of Medicaid, Department of Health, legislators and dentists. Ohio ranks 40th in the nation in reimbursement for Medicaid dental services, and Ohio dental providers have not seen a fee adjustment since the 2000 state fiscal year. A handful of states, including Maryland, Tennessee and Connecticut, recently raised dental Medicaid reimbursement levels, and participation in the program increased dramatically. Results of the study will be reported to the governor and members of the General Assembly for their consideration.
Dentist Student Loan Repayment Program: The bill will double the capacity of the Ohio Dentist Student Loan Repayment program, which has placed 26 dentists in dental professional shortage areas since its creation about a decade ago. The program is fully funded through a $20 surcharge on dentists' licensure fees every two years and funds student loan repayment for applicants working in dental professional shortage areas who treat patients regardless of their ability to pay. In recent years, loan repayment applications have exceeded the capacity of the program and the bill increases the surcharge by an additional $20 to double the program.
At the request of the Ohio Dental Hygienists' Association, House Bill 463 creates a similar dental hygienist loan repayment program that will be funded through a $10 biennial surcharge on dental hygienists' licensure fees.
Temporary Volunteer License: The legislation creates a temporary volunteer professional license for dental providers from other jurisdictions who participate in free care events such as Give Kids a Smile, Mission of Mercy, Remote Area Medical and other programs. Volunteers will be able to receive a one week temporary license from the Ohio State Dental Board if they are properly licensed in another jurisdiction and provide the services without remuneration. Holders of the license will be authorized to provide only limited procedures, including routine dental restorative work, the scaling of teeth, and extractions of teeth that are not impacted.
Workforce Development
Dental Residency Programs: House Bill 463 helps bolster dental residency programs by creating an alternative pathway to licensure for residents who successfully complete an accredited program. These graduates would not be required to complete a regional board exam to secure state licensure. Dental residency programs have become an important part of the dental safety net and the legislation provides these programs with incentives to continue to recruit qualified residents.
Dental Team Changes: Other legislative provisions related to workforce development include modifications to the Oral Health Access Dental Hygienist Supervision Program to improve its effectiveness, expansion of general supervision to allow EFDAs, certified dental assistants and dental assistant radiographers to practice on a limited basis without a dentist being physically present, and allowing a dentist to supervise up to four hygienists at any one time.
Scholarship Opportunities: Finally, the bill expands the Ohio First Scholarship program to apply to dental education. Ohio First was created to help prevent a "brain drain" of the state's best students and awards scholarships to those pursuing science-based training and medical education. The bill adds dental education to those scholarship opportunities.
"House Bill 463 is an important measure that will help improve access to quality, comprehensive dental services for our most vulnerable populations by improving our dental delivery system, strengthening our dental workforce and maximizing their efficiency," said ODA Past President Dr. Paul Casamassimo.
Look for more information on the provisions of House Bill 463 by clicking here and here.