Dentists to hold Give Kids a Smile events across the state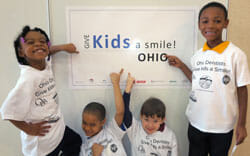 Kids at the 2014 Give Kids a Smile kick-off event. This year's kick-off event will be Feb. 6 at the Mercy Medical Center in Canton.
The 13th Annual Give Kids a Smile kick-off event will be held on Feb. 6 at the Mercy Medical Center in Canton. The kick-off event is one of many Give Kids a Smile programs that will take place throughout the year to help children in need receive access to quality dental care.
"It is great to host the kick-off for GKAS at Mercy Medical Center in Canton," said ODA President Dr. Tom Paumier. "The opportunity to have the GPR Residents and Stark County Dental Society members work together to screen children from Canton city schools is a great way to have our newest colleagues be exposed to one of the many ways organized dentistry addresses access to care. It also highlights Mercy's Age 1 dental program to educate our community about the importance of a dental visit by a child's first birthday and providing a dental home for those most in need."
At the kick-off event, GPR residents and Stark County Dental Society volunteers will provide dental screenings to third-, fourth- and fifth-grade students from Gibbs Elementary School. The Colgate Bright Smiles Bright Futures mobile van will also be on site to provide screenings, plus will visit three Canton City Schools in the three days leading up to the kick-off event.
The GKAS kick-off event will also feature presentations from ODH Director Richard Hodges and other dignitaries. Kristin Byrne, TV reporter/anchor for WEWS in Cleveland, will MC the event. National and state policymakers and local civic leaders are expected to be in attendance.
In addition to the dental care that will be provided at Mercy Medical Center, volunteers with Stark County Dental Society will visit 12 Canton City Elementary Schools to provide free dental care.
Nearly $100,000 in free dental care is expected to be donated through the Stark County Dental Society's initiatives on this Give Kids a Smile kick-off day.
Across Ohio, local dental societies and individual dental offices will hold Give Kids a Smile events on the kick-off day and throughout the year.
For 2015, about 1,600 volunteers are expected to provide nearly $800,000 in care to about 19,000 children in need across Ohio.
"GKAS is a great opportunity to underscore the importance of oral health beginning at an early age and often may be the only way many of these children will receive dental care," Paumier said. "Many of our members not only volunteer to screen patients, but to provide follow-up care when needed. It is very rewarding to see so many children's lives impacted in a positive way, whether it is reinforcing their good oral hygiene or eliminating their pain and dental disease. I encourage all dentists to volunteer for GKAS in their communities to demonstrate organized dentistry's commitment to addressing access to care issues and educating children and their families of the importance of good oral health."
Participating dentists decide the scope, location, number of children and dates of their events. Programs range from basic screening and preventive care to full restorative.
The U.S. Surgeon General continues to report that 51 million school hours are lost each year due to dental disease – and that a child in pain from dental disease will most likely have difficulty functioning in school. In 2011, the Ohio Department of Health reported that access to dental care is our state's number one unmet health care need for children and low-income adults. Dentists can help make a difference in the lives of some of the most vulnerable children by hosting or participating in a Give Kids a Smile program.
For more information, dentists can visit https://www.oda.org/get-involved/in-your-community/give-kids-a-smile/, or contact ODA Manager of Public Service and ODA Foundation Morgan Veach by calling (800) 282-1526 or emailing morgan@oda.org.