SUV – The Powerful Disinfectant & Cleaner
A 3-in-1 product brought to you by OSHA Review, Inc.
Affordable: Gallon per gallon, SUV costs less than other leading brands. When SUV concentrate is mixed with water as directed, you'll spend less than $2.50 per gallon of ready-to-use SUV Disinfectant and Cleaner. It adds up to significant savings over the course of doing business, and costs substantially less than other disinfectant brands, which cost between $8 up to $142 per gallon. There are no hidden costs. When you order SUV, we'll send you FREE spray bottles.
Safe and Effective: SUV is an EPA-registered, hospital-grade surface disinfectant widely used in healthcare settings, proven to kill the hepatitis B virus (HBV), hepatitis C virus (HCV), HIV and 95 other microorganisms. Your dental staff will love SUV. SUV is odorless and colorless, with no irritating perfumes or dyes, and does not contain the carcinogen ortho-phenylphenol.
Convenient: SUV is a 3-in-1 product, containing a powerful cleaning agent, for use as an effective surface cleaner prior to disinfection, cleaning solution for your ultrasonic unit(s), and a cleaner for flushing vacuum lines.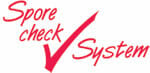 Spore Check System to Meet Infection Control Standards Quickly & Easily
Spore Check System, a sterilizer monitoring service brought to you by OSHA Review, Inc. can help you spend your time where it counts – with patients – instead of on unnecessary paperwork. The Ohio State Dental Board mandates weekly spore testing, and the Spore Check System is an easy, convenient, and accurate way to comply.
Convenience: A year's worth of test strips for up to four sterilizers plus control strips, reply envelopes and receipts to document your testing – all in one handy, compact binder.
Simplicity: What could be easier than mailing a test strip in the pre-addressed envelope and initialing and dating the receipt?
Assurance: You – and your patients – can feel secure in the knowledge that weekly sterilizer testing will keep you informed of any equipment malfunction or human error that could otherwise jeopardize your infection control practices.
Accuracy: The unique bar code guarantees that OSHA Review, Inc. can identify the tests that come from your office, and OSHA Review, Inc.'s on-staff microbiologist guarantees the accuracy of the testing results.
Online test results: You can check your most recent test results and your test history on the Internet anytime.
Reminder service: If OSHA Review, Inc. doesn't get a test strip back from you, they will contact you to remind you.
Professional support: In the event that a strip tests positive, you'll be notified immediately, and OSHA Review, Inc. will help determine the cause.
About the Company
OSHA Review, Inc. has provided products and services for dental professionals across the United States since 1992. Our company began with regulatory compliance and OSHA training for California dental professionals. As many OSHA and state dental regulations require compliance with infection control standards, we specialize in infection control education (dental CE credits), products, and services for our clients.
We market OSHA Review's Spore Check System and SUV Ultra 5 Disinfectant & Cleaner nationwide. OSHA Review's Spore Check System and SUV Ultra 5 Surface Disinfectant & Cleaner are endorsed by the Arizona, Ohio and Texas Dental Associations, as a product of choice for their members.